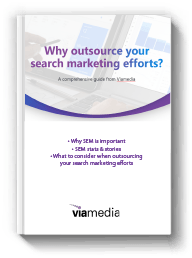 We all know SEM is important, right? It increases visibility in Google search results, allowing you to reach an audience already interested in the product, information or service you have to offer.
The question is -- if you are the lone-marketer for your company or have a lean marketing team... should you do it yourself? Is it worth your time? What are the advantages to hiring an expert to manage your SEM? Maybe you are convinced you need to but you need help convincing your superiors? We can help.
Viamedia's comprehensive guide to outsourcing your search marketing efforts helps you answer these questions and build a case for how it will save you time and bring in more revenue for your company in the long run.
Inside the guide you will find:
SEM Conversion Stats
Local Marketing benefits of SEM
Do It Yourself/Hire an Expert Comparison Chart
Time saving reasons to outsource your search marketing
Download the FREE guide today.
Recent Posts You Might Be Interested In